2 Bed / 2 Bath / 129 m2
One master bedroom with master bathroom, One Bedroom with private bathroom, a wash closet, one small terrace, kitchen and living room. Located in the interior of the building.
Delivered turn-key short of furnishings with fully equipped kitchens, bathrooms and laundry closets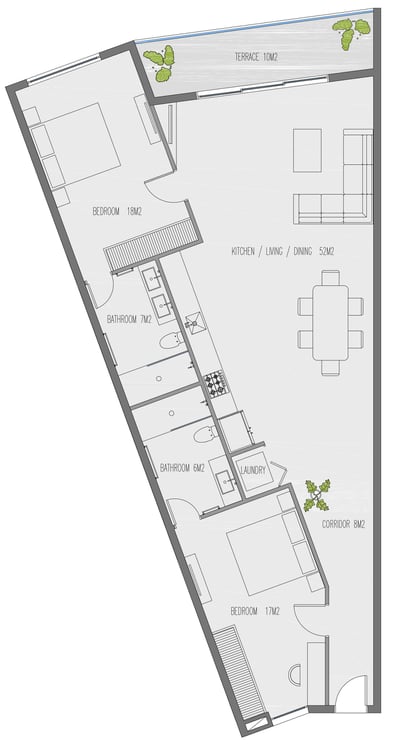 Inclusions:
Interior Doors: Medium density fiberboard with natural veneer facing and 100% solid wood
strips infilling. European hardware.
Floor Tiles: Interior areas tiled in 60x60 gloss ceramic porcelain tile. Matte equivalent for balconies and bathrooms.
Wall Tiles: Bathroom walls tiled with 60x60 ceramic porcelain tile.
Ceilings: Drywall with embedded LED lights, painted white eggshell finish.
Partition walls: Drywall, painted white eggshell finish.
Closets and cabinets: White lacquered closet doors, wall-mounted tv cabinet.
Bathroom: Wall-mounted vanity with embedded sink, quartzstone counter faucets and trim.
Shower partition glass door
Wall-mounted toilets.
Laundry: Washer & Dryer; Tankless Water Heater (US Brand)

Exclusions:

All furnishings such as Beds, Sofas, Lamps, Murals, Curtains, unless specifically mentioned herein.
Casework:
Quartzstone countertop
18-mm moisture-resistant melamine carcase
White high-gloss laquer cabinets
Blum hinge and slide hardware
Glass wall facing
Equipment:
Refrigerator 36"
Induction cooktop 30"
Custom insert hood 30"
Wall combination oven 24"
Dishwasher 24"